Blizzard Insider
Blizzard Insider
The Blizzard Insider is an online newsletter of all things Blizzard. In each issue, the Insider provides exclusive, breaking news on Blizzard games, interviews with the Blizzard development teams, special offers available only to Blizzard Insider subscribers through our online store, and much more.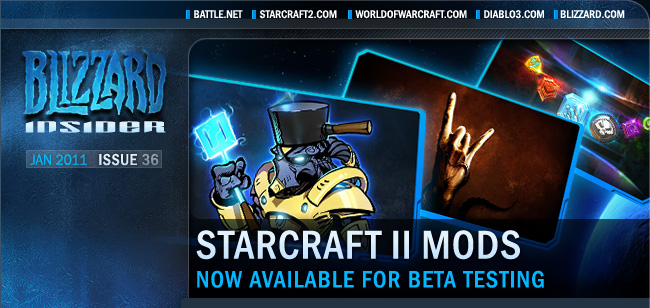 he StarCraft II developers just released beta versions of three new Blizzard-crafted custom games made using the versatile map editor. These three mods offer players a variety of inventive twists on the gameplay of StarCraft II:




StarJeweled — A puzzle/strategy game in which you must match gems of like colors to unleash your forces across the battlefield.



Left 2 Die — A co-op survival/strategy scenario in which you and a friend play as a group of terrans trying to hold out against swarms of zerg by night? before venturing outside of your fortifications to eradicate the infestation by day.



Aiur Chef — An eight-player free-for-all in which you race to collect the special ingredients needed to cook the most delectable dishes of the Koprulu Sector.


The beta versions of these mods are now available to all StarCraft II players as free downloads on Battle.net. For more details or to learn how to try out the beta versions now, click the link below.

StarCraft II Mods


he demons of the Burning Hells use a variety of insidious tactics when battling the heroes of Sanctuary. Some charge head-on into combat, while others dart through the shadows, waiting for the right moment to strike. Some hurl bolts of dark magic from afar, while others summon hordes of lesser minions to do their dirty work for them.

To learn more about the challenges you'll face when fighting the fiends of Diablo III, check out the new Encounters article on the Diablo III website. It details several of the tricks and tactics you'll come up against throughout the game — and serves as a primer for would-be demon-slayers preparing for Diablo III.

Diablo III — Encounters


ince the launch of Cataclysm, the World of Warcraft development team has been busy discussing a variety of expansion-related topics with the community on the official website.

Check out the below developer blogs to discover the design direction for Cataclysm's upcoming class changes, learn more about the new approach to Heroic dungeon challenges, and read the developers' take on PvP balance in Tol Barad. The blogs below offer new insight into the creative process behind Cataclysm and what kind of changes to expect as the expansion continues to evolve.

Tol Barad Balance
Upcoming Class Changes
Wow, Dungeons are Hard


e recently posted a new short story in the Leaders of Azeroth series that paints a detailed portrait of King Genn Greymane, the leader of Gilneas.

Written by James Waugh, "Lord of His Pack" offers a glimpse into the experiences that have shaped Genn's rule, including his efforts to protect his kingdom, his struggles with the worgen curse, and his recent reunion with the forces of the Alliance.

Genn Greymane: Lord of His Pack



World of Warcraft Mugs Now Available

Deck out your home or office with Taverncraft's new World of Warcraft stoneware mugs, now available at www.wowsteins.com. Featuring a variety of Horde and Alliance capital cities, each handcrafted mug holds a hefty 18 oz. (.53 ltrs.) of your favorite hot or cold beverage and is microwave, dishwasher, and freezer safe. Visit www.wowsteins.com for more information and details on how to warm up your winter with these World of Warcraft mugs.


If you no longer wish to receive promotional emails from Blizzard, click here.

To read our privacy policy, visit: http://www.blizzard.com/privacy.shtml

© 2011 Blizzard Entertainment, Inc. All rights reserved. Cataclysm is a trademark, and Battle.net, Blizzard, Blizzard Entertainment, StarCraft, Diablo, and World of Warcraft are trademarks or registered trademarks in the U.S. and/or other countries. All other trademarks are the property of their respective owners.


Blizzard Entertainment
P.O. Box 18979
Irvine, CA 92623

Direct Sales
(800) 953-SNOW (North America)
(949) 955-0283 (International)
http://www.blizzard.com/store

Billing & Account Services
(800) 59-BLIZZARD
billing@blizzard.com
http://www.blizzard.com/support/wowbilling

Technical Support for World of Warcraft:
(949) 955-1382
wowtech@blizzard.com
http://www.blizzard.com/support/wow/

Technical Support for all other titles:
(949) 955-1382
support@blizzard.com
http://www.blizzard.com/support/

Visit Blizzard on the world wide web at:
http://www.blizzard.com