Blizzard Insider
Blizzard Insider
The Blizzard Insider is an online newsletter of all things Blizzard. In each issue, the Insider provides exclusive, breaking news on Blizzard games, interviews with the Blizzard development teams, special offers available only to Blizzard Insider subscribers through our online store, and much more.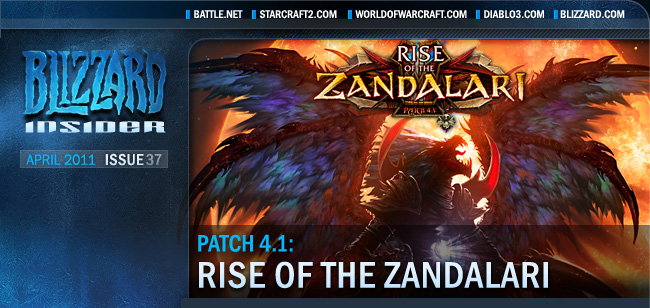 n patch 4.1: Rise of the Zandalari, the devastation wrought by the Cataclysm drives the troll tribes of Zul'Aman and Zul'Gurub into a renewed frenzy that threatens to escalate into outright war.

To learn more about this troll onslaught, the Blizzard Insider recently sat down with World of Warcraft Lead Encounter Designer Scott Mercer. Read on to get the behind-the-scenes details of the content patch, which will bring back the legendary raid dungeons of Zul'Aman and Zul'Gurub as 5-player Heroic instances.

Were there any specific challenges in taking a 10 or 20-player raid instance and revamping it for 5 players?

Scott Mercer: Knowing that there will only be five players at an encounter introduces some constraints that aren't there for larger raid encounters. For example, you can't use tank switching mechanics when you know that most 5-player groups are only going to have one tank. In the same vein, events that require a lot of crowd control aren't going to work either; there just aren't as many players available for crowd control as you would have in a 20-player raid. We also had to be careful to limit encounter mechanics that could potentially disrupt or lock down the healer. These kinds of mechanics tend to be much more devastating in 5-player groups, mostly because there are no other healers available to pick up the slack. Of course, I'm not saying players aren't going to see any disruptive mechanics at all, I'm just saying we had to use them much more carefully than we would with larger raid encounters.


Read the Full Interview Watch the Patch Trailer


f you've always wanted to design games but never knew where to start, the StarCraft II map editor may be your perfect entry point.

To get you familiar with the tools found in the map editor, the StarCraft II development team recently published the Maps and Mods tutorial which offers a quick overview of the map editor's functionality. Give it a read and learn how to break into StarCraft II's robust and rapidly-growing mod community.

StarCraft II: Maps and Mods


he female demon hunter made her crossbow-slinging debut at BlizzCon 2010, but her male counterpart has remained hidden and veiled in shadow until now!

Head over to the Diablo III website to check out the elusive and enigmatic male demon hunter, the newest version of the game's fifth and final character class.

Male Demon Hunter Revealed



oin us in celebrating the 20-year anniversary of Blizzard Entertainment, a company that begin in 1991 with three recent college graduates and the dream of starting an epic game company. To mark the occasion, the Blizzard 20-Year Anniversary mini-site has been updated with a unique documentary on the founding of Blizzard Entertainment. Check out the latest footage and stay tuned for more updates throughout the year.

Blizzard 20-Year Anniversary Mini-Site


rade Prince Gallywix originally wanted to charge you 40,000 gold to read his newly released short story "Secrets of a Trade Prince," but we talked him down to 20,000.

Written by Gavin Jurgens-Fyhrie, "Secrets of a Trade Prince" serves as the third installment of the Leaders of Azeroth series and provides amusing insight into the goblin's opportunistic mindset and ruthless business cunning. Read on, and prepare to be schooled in the art of capitalism.

Trade Prince Gallywix -- Secrets of a Trade Prince



World of Warcraft Sheet Music

Play the music of World of Warcraft, with no mana required. Alfred Music Publishing is now offering official books of sheet music from the soundtrack of World of Warcraft. Carefully edited for the level 2-3 musician, the pages include music that evokes the richness of Azeroth.


Exclusive New Gamer Gear

Fresh from the crew at J!NX comes the latest World of Warcraft and StarCraft II gaming apparel. Check out the 2011 spring line chock full of epic T-shirts including new Horde and Alliance crest designs! J!NX also has great deals for travelers in the Koprulu sector so stop by and beat the zerg rush!


If you no longer wish to receive promotional emails from Blizzard, click here.

To read our privacy policy, visit: http://www.blizzard.com/privacy.shtml

© 2011 Blizzard Entertainment, Inc. All rights reserved. Cataclysm is a trademark, and Battle.net, Blizzard, Blizzard Entertainment, StarCraft, Diablo, and World of Warcraft are trademarks or registered trademarks in the U.S. and/or other countries. All other trademarks are the property of their respective owners.


Blizzard Entertainment
P.O. Box 18979
Irvine, CA 92623

Direct Sales
(800) 953-SNOW (North America)
(949) 955-0283 (International)
http://www.blizzard.com/store

Billing & Account Services
(800) 59-BLIZZARD
billing@blizzard.com
http://www.blizzard.com/support/wowbilling

Technical Support for World of Warcraft:
(949) 955-1382
wowtech@blizzard.com
http://www.blizzard.com/support/wow/

Technical Support for all other titles:
(949) 955-1382
support@blizzard.com
http://www.blizzard.com/support/

Visit Blizzard on the world wide web at:
http://www.blizzard.com